New Features in 19R3.0.15: JReview® & Veeva Learning Integrations
Release Date: January 10, 2020
---
Release Date: January 10, 2020
We are pleased to bring you the following new features in this week's release. See a summary of feature enablement for this release below.
For a list of fixed issues in this release, see 19R3.0.15 here.
---
JReview® Integration
With this release, Vault CDMS now supports an integration with JReview®. JReview® is a third-party application that offers standard and custom reports and data visualizations to support clinical data review. Learn more about JReview® offerings here.
This integration provides customers with a standard set of reports and graphs that cover the following: subject baseline characteristics, serious adverse events, dropouts, common adverse events, and common concomitant medications. If a study includes lab data, customers will see an additional set of reports and graphs that detect lab abnormalities, potential liver toxicity, etc. Veeva also provides time-oriented, graphic patient profiles.
In support of this feature, we added the Manage JReview Job functional permission, which controls the ability to schedule the new JReview Listing job. The new CDMS JReview is the only standard study role to have this permission.
Business Value
Customers now have access to a comprehensive reporting solution to review standard and generate custom listings and graphs.
Enablement
The JReview® integration feature is automatically enabled in all vaults, but some configuration tasks are required before Vault data is visible in JReview®. Work with your Veeva Services representative to fully configure the integration.
Learn More
Veeva Learning Integration
With this release, we introduced an integration with Veeva Learning. Organizations can use this integration to prevent users from accessing a Study before they have completed all of the training requirements for the study. If a user is assigned a training course, based on their Study Role, and their course does not have a valid Training Completion Date, Vault automatically disables their study access. When a user administrator adds a new User to a Study, Vault checks if that user has completed their role's training requirements in Veeva Learning before giving that user study access.
If a user has not completed their training, they will still be able to log in to Vault CDMS, but they will not be able to see any of their studies.
For more information about the training available for Vault CDMS, contact the Veeva Training team.
Business Value
This feature supports regulatory compliance by preventing end users from accessing Vault CDMS before they have completed the appropriate training.
Enablement
This feature is not automatically enabled for existing Studies. This feature is enabled at the study-level using the Study Configuration record for the Study.
Learn More
Vault Tools
With this release, we introduced a new administrative area, Vault Tools, where users with the Vault Owner security profile can manage vault-level configuration without needing to access Vault's Admin area. The new Vault Tools tab is located within the Tools sub-tab container and is visible only to users with the Vault Owner security profile.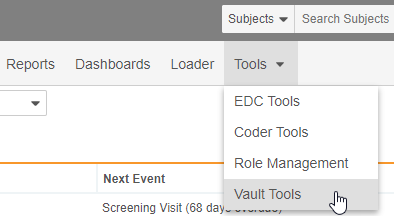 In the current release, users may only manage Connections for use with the Veeva Learning Integration in Vault Tools. While other Connections may display automatically, depending on a vault's existing configuration, users may only create and edit Absorb-type connections
Business Value
This enhancement allows users to further manage their vault's configuration without accessing Vault's Admin area.
Enablement
This feature is available automatically in all vaults.
Learn More
Feature Enablement Details
Feature Name
Enablement
JReview® Integration
By Study Build
Veeva Training Integration
Study Feature Flag*
Vault Tools
Support

Enablement Notes:

* In vaults where Vault Tools is already enabled.
Enablement Legend
| Enablement | Description |
| --- | --- |
| Auto-on | Automatically activated and no configuration is required before using the feature; note that in some cases, a new feature is dependent on another feature that must be enabled or configured. |
| Study Feature Flag | This feature is available by configuration within the Study Configuration object (or similar). To enable a feature using study configuration, navigate to Admin > Business Admin > Study Configuration and edit the Study Configuration record for your Study. |
| By Study Build | The configuration options for this feature are available automatically in Studio, EDC Tools, Coder Tools, or System Tools, but you must configure them within your Study for those options to apply. |
| Support | On/off option controlled by Support. |