What's New in 17R2
---
| | |
| --- | --- |
| Pre-Release Date: July 17, 2017 | Release Dates: August 4 & 11, 2017 |
---
We are pleased to bring you Vault 17R2. Read about the new features below. You can find information on enabling new features in 17R2 Feature Enablement Details.
EDC
Event-Level More Actions Menu
With this feature, users can perform event-level actions, depending on their security profile. Actions available at the event-level include:
Event History
Edit Event date
Apply Electronic Signature
Event-Level Electronic Signature
Users responsible for electronic signatures can now sign all Submitted forms in an event with a single signature. Forms that are not eligible for signature remain unsigned and will require an electronic signature once submitted. Users can apply event-level signatures by selecting Apply Electronic Signature from the event's More Actions menu.
Subject-Level Electronic Signature
Users responsible for electronic signatures can now sign off on all submitted forms related to a Subject with a single signature. Users can apply subject-level signatures by selecting Apply Electronic Signature from the casebook's Actions menu.
Task Bar Displays Applied Filters
With this release, the task bar automatically applies the study, site, or subject filters if available tasks for the user only relate to one filter record. When a filter automatically applies, it appears at the top of the task list so that a user can see the context for the task list. Users cannot remove automatically applied filters.
Source Data Review & Verification Enhancements
When source data verification (SDV) or source data review (SDR) is not completed on a field where SDV or SDR is required, a yellow indicator alerts the user to which fields require SDV or SDR. Once the user completes SDV or SDR, the yellow indicator disappears. Vault also displays a percentage of SDR and SDV completed on a form. Users can now perform SDR and SDV for all items on a form at once.
Casebook Schedule Audit Trail
With this release, users can view an audit trail of all actions on a casebook. Each audit entry includes the timestamp, user name of the user making the change, the affected object, and a description of the event. Users can access the casebook schedule's audit trail by selecting Casebook History from the casebook schedule's Actions menu.
Updated Date, DateTime & Time Controls
Users can now input dates and times into a free text field for Date, DateTime, and Time item controls, allowing easier and quicker data entry. These controls accept the date entered in the study's standard format, the user's locale's format, or the ISO 8601 format.
Repeating Item Groups
With Repeating Item Groups, users can capture repeating sets of questions while on a specific form.  Repeating Item Groups are available for both standard and repeating forms.
Remove Empty Unscheduled Events
Data entry users can now remove unscheduled events that they added accidentally. To remove an event, all forms in the event must be in the blank status. To remove the event, users select Delete Event from the event's More Actions menu.
Mark an Event as Did Not Occur
Users can now indicate that an event did not occur. When a user marks an event as did not occur, Vault does not create any of the associated forms, and the user can proceed to the next event in the casebook. Users can mark an event by clicking Did Not Occur from the casebook schedule.

Mark a Form as Intentionally Left Blank
Users can now indicate that a form was intentionally left blank. When a user marks a form as intentionally left blank, Vault does not create queries due to missing data. Users can mark a form by selecting Intentionally Left Blank from the form's Actions menu.
Submit Button Rename
With this release, we have renamed the Submit button to the Complete button.

EDC Studio
Vault EDC Studio is a new study design application for Vault EDC.
Note that the 17R2 Feature Enablement Details list only EDC Studio. That enablement information includes all features listed below.
Multi-Organization & Multi-Study Support
Vault EDC Studio can support single sponsor or CRO study builds. Users can group Studies into Organizations, which can represent sponsors, business units, or other groupings within the study design environment.
Drag & Drop
Studio includes a dynamic drag and drop environment that allows users to drag objects from a component palette and drop them onto a design canvas. Users can then rearrange and reorder objects by dragging and dropping objects on the design canvas.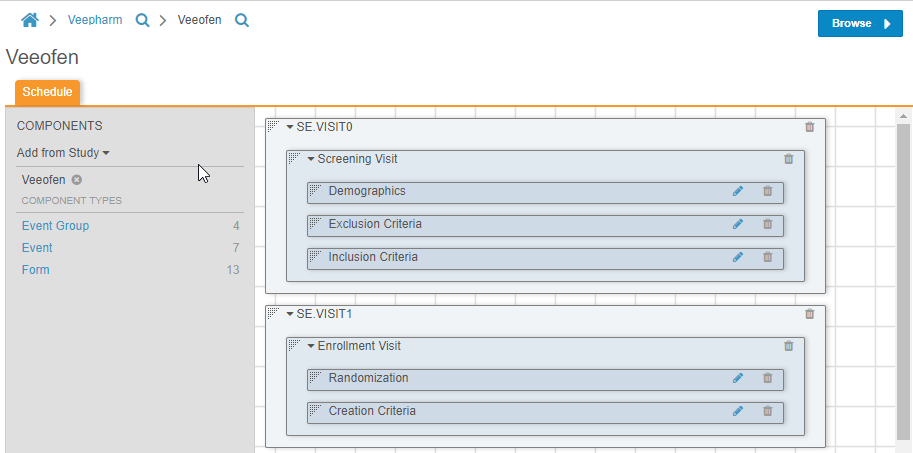 When selecting objects in the Design and Browse views, users can define detailed properties of an object, which control how Vault uses the object within the Study.
Note: The Template Studies and Study Object Reuse features were postponed to a later release.
Vault Objects
Sequential Auto Numbering for Objects
When enabled, Sequential Auto Numbering enhances system managed field names to ensure new records are created in sequential order. This enhancement ensures that each new record has an ID one value higher than the record created before it. For example, if a user created a record with a system managed name of DEV-0001, the next record will be named DEV-0002. If this feature is disabled, records will often have gaps between values, meaning records could jump from DEV-0001 to DEV-0009. Note that enabling Sequential Auto Numbering increases the time it takes to create new records.
Related List Filters for Page Layout Sections
Page layouts for object record details often include related object sections that show all related records. For example, the Product detail page might show all related Audit records. This release allows Admins to filter a related object section by object type, for example, to show only records with the Internal Audit type and exclude External Audit records. The filter can also specify multiple object types.
When users create new records from the related object list, the new records will default to the relevant object type. If the filter includes multiple object types, users creating a new record will only see the relevant types.
Show in Tab for Simple Many-to-Many Relationships
Show in Tab for Simple Many-to-Many Relationships allows users to view a list of related object records in a custom tab. From the custom tab view, users can apply additional filters, save filters for future use, edit fields in-line, and export the list of related object records.
Note that Show in Tab is only available if there is an existing custom tab for the related object. Show in Tab is also not available for Complex Many-to-Many Relationships.
Enhanced Custom Actions
Custom actions call an external web server from an actions menu on an object record or document. Administrators can configure custom actions by specifying the URL of the web server and parameters such as the ID of the selected record. In prior releases, only document actions could display within the Vault UI using an inline iFrame. This release extends this option to object actions.
Additionally, inline custom actions on both documents and objects now support the transmission of the user's session ID via a post message listener as a more secure alternative to passing it through the action's URL.
Object Field Tokens in Messages
This enhancement enables Admins to configure object-specific message templates, including custom object field tokens. Previously, object message templates only supported standard object field tokens, which are shared by all objects.
Atomic Security
In 17R1.0, Vault provided Profile Field Level Security allowing Admins to make object fields read-only or hidden at the user's profile level. With this release, Admins can configure Atomic Security in addition to profile level security to secure object fields by lifecycle state and/or roles assigned on the object record. In order to configure Atomic Security, an object lifecycle must be assigned to the object.
For a lifecycle state and role, a field can have one of the following configurations:
Hide: The field is hidden from Create, View, and Edit Forms. When shown in a list view, a field hidden at the State/Role level does not reveal its value (hidden field icon in the UI).
Read: The field is read-only (Create, View, and Edit Forms, List views, APIs).
Edit: The field has the same security settings as defined at the Profile and/or DAC level. For example, if a field is editable at the Profile level, the field is still editable in the State and Role level (UIs, APIs).
Object Type Security
This new feature allows access control at the object type level. Admins can assign the Create, Read, Edit, and Delete permissions for each object type in a permission set.
Read: Gives Read access to records assigned to the Object type (drive record visibility).  
Edit & Delete: Respectively allows the Editing and Deleting of records assigned to the Object Type.
Create: Allows the creation of records for the Object Type.
For example, the Product object has the Base, Medical Device, and Pharmaceutical product object types. A profile can be configured to provide Read access to Medical Device and Pharmaceutical product types through permission set assignments. This profile can provide Create, Edit, and Delete permissions only to the Medical Device object type.
Profile field level security and object type security can be combined. Based on the previous example, an "External ID" field with "Read" permissions (and no Edit permissions)  will be read-only across all Product Object types exposing this field.
Custom Roles
In V17R1, only the standard roles (Viewer, Editor, and Owner) could be manually assigned to an object record (assuming Matching or Custom Sharing rules are enabled on the object).
With this release, custom roles can be assigned or unassigned to an object record. A user with Edit permission on a record can manually assign or remove a user or group in a standard or custom role. For example, the Owner of a Deviation Object record (QMS) can assign a user on the object record in the "QA associate" custom application role.
Configurability of Standard Object Lifecycle Roles
With this new feature, the Edit and Delete permissions can be configured on the Viewer, Editor, and Owner standard roles by lifecycle state. A typical business scenario required that object records are read-only in terminal states of an object lifecycle for most roles, including for the Owner role. For example, a Product object record is read-only in the Obsolete state for all roles, including for the users and/or groups assigned to the Owner role on the record.
Object Type Reference Constraints
Object Type Reference Constraints enable Admins to constrain reference fields that are shared across object types to different subsets of record relationships. This allows users to select reference records only applicable to that type. Previously, the same set of reference records were available to all object types.
Object Type Picklists
Object Type Picklists enable Admins to constrain picklists that are shared across Object Types to different subsets of picklist values. This allows users to see and select only those picklist values that are applicable to a particular object type. Previously, the same picklist with all values was available to all Object Types.
User Task Object Class
The User Task object class enables Admins to configure a new class of objects that can be used to plan, assign, and track work within Vault. Administrators can assign user tasks to users in their vault. When a user task is assigned to a user, that user receives a notification, and Vault displays the user task in the user's My Tasks view. User task objects can be standalone or associated with a parent object. Relating the user task object to a parent object helps to identify where work is needed.
With this release, Vault includes a system-managed Activity object, which provides a single view of all work within a vault, including User Tasks and Workflow Tasks.
Formatted Output
Vault now supports the creation of custom printed representations of object data through the use of formatted outputs. This allows users to generate robust printed files combining custom text, images, tables, and formatted representations of their vault's data. For example, Admins can create printable Audit reports containing related CAPA information, or printable Configuration Change Tickets complete with closure date information.
Vault generates formatted outputs through a user action. When generating a formatted output report, Vault uses a template file to gather and compile data into a formatted report. While Admins only need to build a template once, they can configure a user action to fill out and generate templates for multiple records.
Lifecycles & Workflows
Reassign Object Workflow Tasks
Users with the workflow reassign permission can reassign an object workflow task on a record to another user. The new task owners will receive email notifications letting them know that they have been assigned a new task.
Object Lifecycle State Types
Object lifecycle state types enable Admins to identify object lifecycle states as either Initial or Complete state types. With this release, "Starting State" is now called "Initial State" for all existing object lifecycle fields. The "Complete State" is optional. As with Document Lifecycle State Type, Object Lifecycle State Type is used to enable other features in Vault, such as User Task Object Class, which is also in this release.
Configuration Migration
Vault Compare
This feature allows Admins to compare the configuration of two vaults. This can help users build a Configuration Migration Package, or to validate that environments are synchronized after package deployment. The output of Vault Compare is an Excel file.
Component Label Visible in Inbound Packages
The component Label value is now visible in the Inbound Package detail page, making it easier for Admins to identify components during migration into a vault.
Vault Loader
Vault Loader CSV Size Limit Increase
In this release, we enhanced Vault Loader to handle much larger inputs. The CSV file size limit for Vault Loader has increased from 10MB to 1GB.
Reporting
Flash Reports
Flash Reports makes it easy for users to distribute reports and avoid waiting for large reports to execute. Users with permission can now schedule any report on a daily, weekly, or monthly basis and opt to distribute that report directly to the email inboxes of other Viewers and Editors of the flash report. In addition, when users access the flash report in Vault, it loads instantly by using the most recent cached results instead of re-executing the report. Users can configure Flash Reports to only send notifications if the report returns at least one record. By defining the Flash Report's filter criteria to only return action items and selecting the new notification option, users can create intelligent monitors.