Study Settings
In the Study General Settings section, you can configure Clinical Significance and Out-of-range Query Settings. Study Settings are inherited from the System General Settings tab.
Please note that Study Settings should be modified before creating a Lab Panel as Study Settings are locked once a Lab Panel is created.
Out-of-range Queries
If out-of-range lab results are entered, Vault will automatically fire a query if Out-of-range Queries are configured.
To enable automatic out-of-range queries:
Navigate to Labs > Study General Settings.
Click Edit in the upper right corner of the page.
Select Yes for Fire Out-of-range Queries by Default.
Click Save.
If Clinical Significance is enabled, Vault will signify whether or not the out-of-range lab results entered are clinically significant. Clinical Significance is defaulted to "Yes" if left unedited.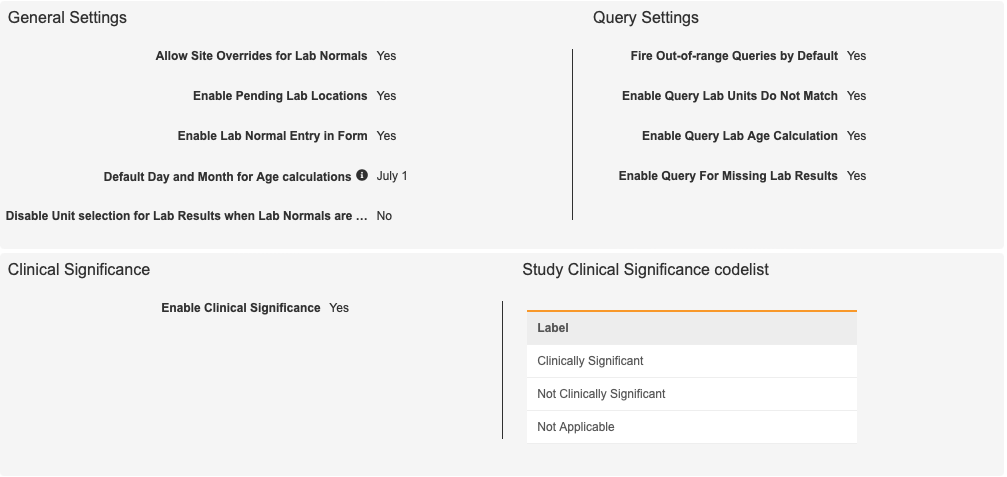 System-generated Queries
Certain queries will be automatically generated by Vault. Please refer to the table below for more details.
| Query | System Behavior |
| --- | --- |
| Out of Range | If a Lab result is out of range, Vault will generate a query if Out of Range queries are configured in the Study Settings. |
| Missing Labs Result | If a Site doesn't enter a Lab result, Vault will generate a query. |
| Missing Clinical Significance | If clinical significance is enabled for the study and a lab result is out of range, the clinical significance field will appear. If the Site doesn't select clinical significance, a system query will generate. |
| Age | If you enter an age that's different from the age that has been calculated by the system, Vault will generate a query. |
| Unit Discrepancy | If the Site changes the Unit that was automatically populated with the selected Lab Location, Vault will generate a query. |
Site Lab Assignment
In the Site Lab Assignment section, Lab Data Managers can specify lab locations that are available for each site.
To add lab locations, click Add Lab Location and select lab locations via the checkboxes.
Remove a Lab Assignment by clicking the gear icon that appears when you hover your cursor over the Lab ID of the assignment you'd like to remove.