Randomizing in Data Entry
Once your Randomization tab and Randomization settings in Studio have been configured, you can randomize a subject in the Data Entry tab.
How to Randomize
To randomize a subject in Data Entry:
Navigate to the Data Entry tab and select a Study.
Click into your Randomization form and fill out the required fields. For example, if your Ready to Randomize rule is configured with the Informed Consent and Sex fields as shown below, those fields must be populated to trigger the Randomize action.
Click Save.
In the pop-up dialog, select Randomize Now.
Once the subject has been randomized, a Randomization ID will be generated at the top right of the page.
Adding Kits and Devices
Sites can add Kits and Devices (if configured) in Data Entry after a Subject has been randomized.
To add Kits and/or Devices:
Navigate to the Data Entry tab and select a Study.

If your Kit and/or Device IDs are set to "Manually Entered" in your Randomization Settings, the option to "Add Kit ID" or "Add Device ID" will appear next to the subject's Randomization ID. Click Add Kit.

Enter your Kit ID and click Save.
To edit a Kit ID, click the Actions menu and select Edit Kit.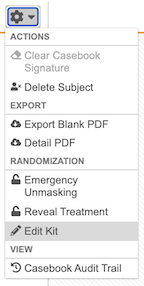 Emergency Unmasking
If an adverse event occurs, users with the Principal Investigator role can use the "Emergency Unmasking" action in Data Entry to view a subject's treatment. Notification emails will be sent out (if configured) when an Emergency Unmasking occurs.
To use Emergency Unmasking:
Click the Actions menu in the Study in which you must perform the Emergency Unmasking.
Provide a Reason for Unmasking and verify your login credentials before clicking Unmask.
Reveal Treatment
Users with the "Reveal Treatment" permission can reveal the treatment of a subject without the action being considered an Emergency Unmasking.
To use the "Reveal Treatment" action:
Click the Actions menu in the Study in which you'd like to reveal treatment.
Verify your login credentials and click Reveal.