Logging into Vault (Sites)
Vault provides a few ways to log in:
User Login: This is the standard login. The first time you log in, you'll enter your user name, for example, tibanez@veepharm.com, and your password. On subsequent logins, Vault will remember the last user name you used and you'll only need to enter your password. If you have multiple Vault accounts or share a computer with another Vault user, you can click Switch user to enter a different user name.
Single Sign-on (SSO): This process allows you to access multiple authorized applications without having to log into each application separately. SSO enables organizations to validate user names and passwords against a corporate user database (such as Active Directory), rather than having separate user credentials managed by Vault and other applications. If your Vault account uses SSO, you'll be automatically directed to your organization's Identity Provider when you attempt to access Vault.
From your user profile, you can update profile information like your title or phone number and change your password. Admins can also manage your user profile information from Admin > Users & Groups > Users.
Accessing the Login Page
You can access the login page by navigating to https://login.veevavault.com or by opening a hyperlink or bookmark for a specific page in your vault. For example, email notifications often include a link to the related content. If you do not already have an active session, opening to any page in Vault will direct you to the login page, or, if using SSO, your Identity Provider's login page.
Multi-Vault Domains & Cross-Domain
If you have access to multiple vaults through a single user account, logging in can take you directly to a specific vault or to the My Vaults page.
If you initiate login from a hyperlink that points to a specific vault, you'll go directly to that vault.
If you initiate login from the generic login page, i.e., https://login.veevavault.com, you'll go to the last Vault you've accessed. If you've never logged in on the current browser, or your past session information isn't available, you'll go to your default vault.
If you initiate login from a customer-specific login page, for example, https://veepharm.veevavault.com, you'll go to a vault for that customer.
If we cannot log you into a specific vault according to the above rules, for example, because the vault is in Configuration Mode or you no longer have access, you'll go to a default vault.
Password Managers
Some users utilize password managers (LastPass, KeePass, etc.) or browser settings to generate, store, and populate login information for many login accounts. If your security policy allows, the password manager can autofill your password in the Vault login screen. Admins can prevent browsers and password managers from saving and autofilling the password field in the Vault login screen.
LastPass Setup
Although we support LastPass for saving and managing Vault login information, LastPass's autofill functionality is not compatible for users who access Vault with more than one user account. To use LastPass in this situation, you must disable the autofill functionality.
Open LastPass and find each configured Vault site. Click Edit and check the Disable Autofill setting under Advanced Settings. See LastPass Help for more information.
Login Errors
If you cannot log into Vault, you'll see a detailed error message.
Two-factor & Multi-factor Authentication
Vault does not support two-factor or multi-factor authentication for accounts with basic security policies, for example, accounts authenticating directly against Vault using a user name and password. For Single Sign-on accounts, users can configure two-factor and multi-factor authentication through their Identity Provider system.
Managing your Account
You can change your password, update your profile information, and update your profile picture from your User Profile.
Based on your vault's settings, you may not be able to update your own information and profile picture. See details below.
How to Change Your Password
To change your password:
From the user profile, click Change Password.
Enter your current password and your new password.
Click Confirm. Your password is immediately updated.
How to Update Profile Information
If your vault allows users to update their own contact information, an Edit button appears in your user profile. To update your details:
From the user profile, click Edit.
Enter new values for any field that needs an update. Note that Vault uses the email address listed here for all notifications.
Click Save.
How to Update Your Profile Picture
Your profile picture is visible to other users and appears in various places in Vault. Uploaded profile pictures must be JPG, PNG, or GIF files, and less than 10MB in size. Vault automatically resizes images to 64 x 64 pixels, and removes the animations for animated GIFs. Images of approximately square aspect ratio will work best as profile pictures.
To add or update your picture:
From the user profile, click on Change profile image below the current image.
In the dialog, click Choose and select a picture from your computer. You can remove your profile picture by selecting Use default image.
Click OK.
About Timezone, Language, and Locale Settings
You can set your preferred time zone, language, and locale. To change this information, select an option from one of the picklists in your language and region settings.
About Veeva Support Access
When you need assistance from Veeva Support, it can be useful for them to see your vault from your perspective.
To grant access, select an access duration and click Grant Access. If you need to withdraw access or change the access duration, you can do so by clicking Revoke Access or Change Expiration at any time.
About the Alias Field
When selecting users for document sharing and other actions in Vault, its useful to have additional information about the user, particularly in large organizations where multiple users have the same name. To help users select the correct person, you can use the Alias field to provide additional information that appears next to your name in all places where user selection occurs. Use this field to enter whatever identifying information will be helpful, for example, your department, title, or office location.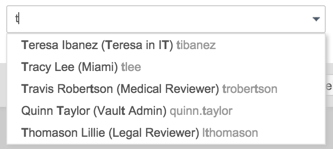 Delegate Access
Delegated access provides a secure process for you to designate another user to handle Vault responsibilities on your behalf, on either a temporary or ongoing basis. Note that delegation is vault-specific. For example, if you add Gladys as a delegate in your CDMS vault, she does not have access to your CTMS vault unless you also add her as a delegate in that vault. An admin must enable this functionality.
About Notification Emails from Veeva
Veeva periodically sends emails with product announcements and system availability information.
Product Announcements
You can choose to receive or disable product announcement email notifications using the Product Announcement checkbox in your user profile.
System Availability Notifications
To receive email notifications from Veeva about planned system maintenance, service disruptions, and other system availability information, contact your Admin to enable these notifications for you.
About Service Announcements from Veeva
From time to time, Veeva displays service announcements as a banner notification in the Vault application, with product announcements and system availability information. For example, you may receive a notification about an upcoming maintenance window.
For each event, you will receive two (2) notifications: an initial notification when the event is first scheduled, and a second, reminder notification 24 hours before the event begins. These display automatically for every applicable user.
For additional details about the service event, click Help (?) in the notification.
Once a notification appears, you can dismiss it by clicking Close (X). After you dismiss a notification, it will not display again.