Entering Lab Results
Once Labs has been configured in Studio and the Labs tab, you can enter Lab results in the Data Entry tab.
For a step-by-step guide on how to configure Labs, see Using the Labs Module.
How to Enter Results
To enter Lab results:
Navigate to Data Entry, select a Study and Subject, and open your Lab Form.
Fill out the Collection Date and Time.

Select a Lab Location. Vault will pull the subject's Age and Sex as well as the corresponding Analytes and Normals based on the Lab Location selected. You can Refresh Lab Normals if the Birth Date, Sex, or Age of a subject is updated after the chosen Lab Location was selected or Lab Normals have been updated since selecting the chosen Lab Location.

Enter Lab results in the Lab Results column in the Test Panel. Results that are above or below normal ranges will be flagged as "High" or "Low." If a result is flagged and Clinical Significance is configured, you must indicate whether or not the out-of-range result is Clinically Significant.

Click Complete.
If you're missing results, check the Missing Result checkbox. You must provide a reason for missing results.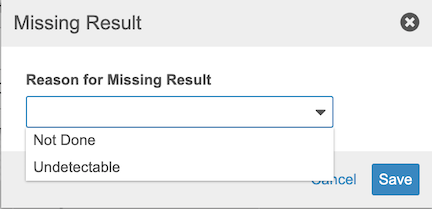 To override normals, select the pencil icon in the Normal Override column and enter new Normal Ranges.
To use the > or < symbols when entering results, create a Text Data Type or select Test Not Performed with the reason being either Undetectable or Below Levels of Detection. You can then enter your results in an additional field.